箱根 Art Loop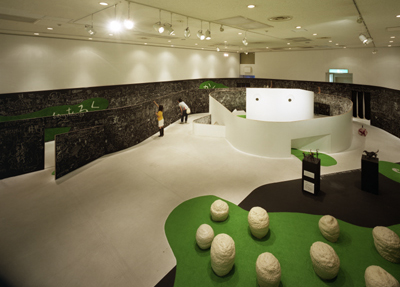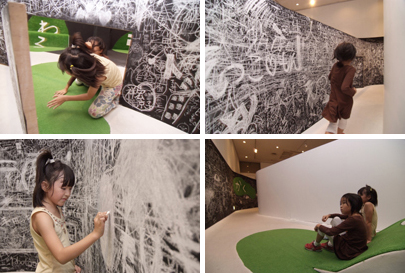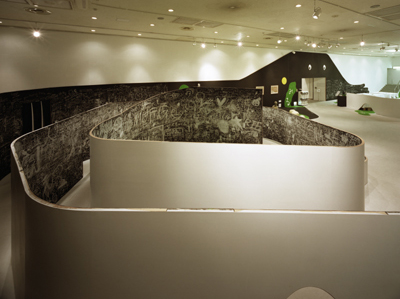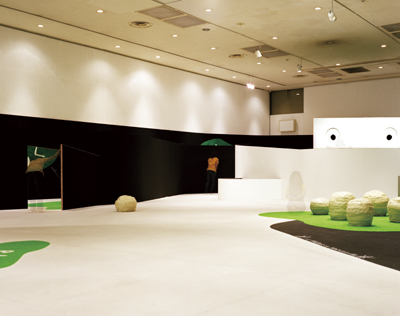 Hakone Art Loop
- play – experience – exhibit – draw -
21.april-14.oct.2007
The Hakone Open-Air Museum
constructor: Izumi Senko-sha blackboard maze, plastic lawn, etc.
*ACE Incentive Award 2008
*JCD Rookie Award 2008
This exhibition is designed for children and adults to feel and enjoy art more closely and freely, using their bodily senses.
The space consists of a huge maze; a long, coiled blackboard strip called "Mr. Loop", punctuated with bumps and tunnels. Play, experience, exhibit, draw… these activities are integrated in this unique landscape.
Visitors are free to act and play in their own ways. Kids run around, climb over bumps, crawl into tunnels, draw and scribble on "Mr. Loop". Adults find artworks and start making huge clay models. It is so much fun that everyone wants to play and stay longer. The blackboard strip will soon become white, full of drawings, scribbles and graffiti that visitors made.
In this unique art wonderland they are all free to make the most of their creative energy.
箱根 Art Loop
-あそび-たいけん-こうさく-てんじ-おえかき-
2007年4月21日~10月14日
箱根彫刻の森美術館・マルチホール
施工:泉宣宏社
黒板迷路、人工芝 etc.
*こども環境学会 デザイン奨励賞
*JCD デザインアワード 2008 新人賞
大人から子どもまでアートをもっと身近に楽しく感じてもらうための展覧会。
とぐろを巻いた黒板でできた「ループくん」という名の巨大迷路に山やトンネルがしかけられ、そこに遊びやお絵描き、展示、ワークショップがつめこまれた楽しいランドスケープができました。
来た人は思い思いに走り回ったり、絵を描いたり、彫刻を鑑賞したりします。黒板はみるみるうちに真っ白に。まだ帰りたくないと言う子どもたち、粘土に熱中するお兄さん...非日常的な空間のスケールの中で、みんな無我夢中で創造力を発揮しました。
photo(c)
top: Osamu Kurihara
others: Mineo Sakata
→ link:
 箱根彫刻の森美術館
 箱根 Art Loop プレスリリース