Maternity Waiting House DESIGN GUIDE
A beautiful picture book "Maternity Waiting House DESIGN GUIDE" has printed.
This book shows how we have developed the community participatory design approach to making maternity waiting house in the rural areas in Zambia, with NGO JOICFP, PPAZ, IPPF and people from the community since 2011.
You can download PDF files from below. Hope to share this great creation of songs, dances and paintings!
ザンビアのマタニティハウスのデザインガイドブックが完成しました。
2011年以降、農村部に建設してきたマタニティハウスを、NGOジョイセフ、PPAZ、IPPF、そして地域の皆さんと共にどうやって作って来たか、その参加型のデザインプロセスをこの本で共有いただけます。
PDFのダウンロードは下記リンクから。
歌あり、踊りあり、絵画あり!彼らの素晴らしいクリエイティビティをぜひご参照下さい。
PDF all pages  (6.7MB)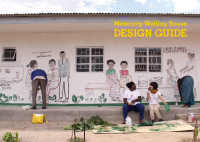 for downloading each page (300~700KB)

Mikiko Endo (Mother Architecture), JOICFP Some Rights Reserved. 2015
This content is licensed under Creative Commons License BY-NC 4.0 International.
————————————————–
Maternity Waiting House DESIGN GUDE
Issued by: Mother Architecture & JOICFP
Jan 2015 Tokyo
Publisher: JOICFP
Editor: Mother Architecture
Cooperate Editor: JOICFP, IPPF, PPAZ
Supported by IPPF
Photo Credit: Osamu Kurihara
Graphic and Editorial design: uji design