江戸川競艇場とコラボ!
江戸川競艇場 & ヤギさんワークショップ共同プロジェクト「ヤギをつくってアフリカに贈ろう!」が1月31日まで開催中です。競艇場内にあるヤギ・ロボットの隣にヤギさんワークショップとジョイセフの特設ブースが設置され、パネルや募金箱、スペシャルバージョンのヤギ人形などが展示されています。
1月31日(日)にはワークショップも開催します。(午前10:00〜/午後14:00〜の予定)詳しくは
江戸川競艇場の告知ページ
をご覧下さい。
Collaboration with "Edogawa Kyoutei'!
Collaboration with"Edogawa Kyoutei'!
Edogawa Kyoutei and Yagisan workshop will cooperate and make a project together. It will take place on the 31st of January.
In the rooms of the motorboat racing team there will be a 'Yagisan'-robot, next to the 'Yagisan'-workshop and a special booth of JOICFP, a collection box and an exhibition of special 'Yagisan'-puppets and many things more.
At this date we are also going to arrange a workshop from 10 a.m. until 2 p.m..
For detailed information please click on the website of Edogawa Kyoutei.
場内2階のハズレ投票券を食べるヤギ・ロボットの隣に新聞ヤギが登場!
In the 2nd floor, is a presentation of the newspaper-goats nnext to a goat-robot which eats ballot paper.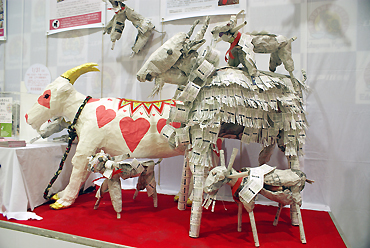 ハズレ投票券で毛皮をつけた、スペシャルバージョンのヤギ人形
The special 'Yagisan-version, with a fur, made of ballot paper