新聞紙のお人形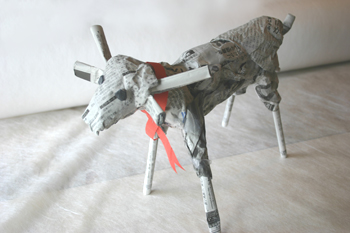 ヤギさんワークショップで作る新聞のお人形は、代々木にあるプーク人形劇場の渡辺真知子さんが考案されたものです。
プーク人形劇場は人形劇の公演だけでなく、テレビや映画などにもおなじみキャラクターをたくさん提供しています。2007年に新宿のリビングデザインセンターOZONEで行われた「このもと展」の会場に、渡辺さんが作られたかわいい新聞の人形を飾っていただいたのがはじまりでした。
このとき開かれたワークショップ「
新聞紙で人形をつくろう!
」に参加して作りかたを教えていただいた際、それがとてもおもしろく、その後もいろいろと作って遊びました。骨を作り、肉をつけ加えてゆく方法は、彫刻やデッサンの基礎でもあります。作る動物の形もじっくり見ます。大人にも子どもにも簡単にでき、そしていつまでも飽きない素晴らしい手作り人形です。
ヤギさんワークショップでは、この渡辺真知子さんの考案された新聞紙の人形づくりを継承させていただいています。機会があれば、本家、渡辺真知子先生をお呼びした会も開けたらと思っています。
Puppets made out of newspaper
The puppets, which are created at the Yagisan-workshops, were invented by Machiko Watanabe of the puppet theatre PUK, located in Yoyogi.
The puppet theatre PUK does not only make stage performances but has also already provided its characters to the TV or movies. In the year 2007 Mrs?? Watanabe showed her cute handmade newspaper-puppets during the 'Konomoto Exhibition' in the rooms of the 'OZONE Living Design Centre' in Shinjuku for the first time.
I took part in the 'Let's make puppets out of newspaper!'- workshop which was also held at that time, learned how to make these puppets and because I really liked it, I kept on creating afterwards.
'Start with making the bones, then attach the meat.' This method is the base for the carving and the design. At the same time you to have think carefully about the shape of the animal you create. It's easy for adults and kids at the same time, and afterwards you have a wonderful puppet, which will never become boring.
So we are very happy that we can use the manufacturing skills invented by Ms Watanabe for the newspaper-puppets of our 'Yagisan'-workshops. And if we have the opportunity, we would like to invite Ms Watanabe, the founder of the idea, to hold a workshop together with us.